Democracy & Debate Theme Semester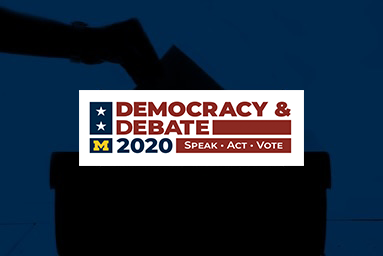 Featured Course
This course introduces the major theories of social influence in psychology and economics so that you may become a better decision architect …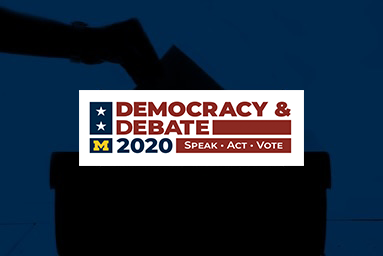 Featured Course
There is no policy without victory. More precisely, well-planned and well-executed political campaigns win elections and make governing …
College of Engineering
Back to top
Featured Course
J. Alex Halderman
Strengthening election cybersecurity is essential for safeguarding democracy. Attacks against recent elections in the U.S. and Europe demonstrate that cybercriminals and nation-state actors are becoming more aggressive, even as campaigning and voting become increasingly reliant on vulnerable computer and networks. Election cybersecurity raises complex challenges at the intersection of computer science, law and public policy, politics, and international affairs. Students from across these disciplines are encouraged to join the course. Prerequisite: EECS 388 or instructor permission. Non-EECS students are encouraged to enroll; we will arrange for alternative assignments appropriate to your major.
Richard Rood
Prerequisite: Basic knowledge of climate change and its impact. (2 credits)This 2-credit seminar focuses on special topics on the use of climate-change data and knowledge in planning, design, engineering and management. Topics may include uncertainty in the context of decision making, nonstationarity in design and engineering, and vulnerability and risk assessment. Prerequisite: Basic knowledge of climate change and its impact.
College of Literature, Science and the Arts
Back to top
School of Music, Theater and Dance
Back to top
Featured Course
Charles Garrett
This seminar centers on the topic of national identity as applied to and expressed by music and musicians of the United States. The course covers a wide spectrum of music-making, ranging from Amy Beach to Charles Ives to Childish Gambino. Students will gain familiarity with scholarship on musical nationalism and learn to apply these varied approaches to music of their choice. While the course centers on American music, its theoretical scope is designed to be useful for specialists in other musical traditions. Course requirements include intensive reading, listening, viewing, discussion, weekly assignments, and a research paper.
Aaron Dworkin
This course provides access to the greatest leaders from the fields of performing arts, arts administration, arts leadership and philanthropy who are also focused on the impact of the arts and social justice. Students have the opportunity for multi-faceted in-depth engagement and reflection with a different arts leader every week. The premise of the class is to ignite learning through inspiration from and role modeling by successful leaders and direct mentorship. Students engage with each leader in a virtual forum through interactive video lectures, including facilitated Q&A and group discussions. Following each guest leader session, students write and submit reflection papers. At the conclusion of the semester, students write a comprehensive final paper, based on their cumulative experiences with the guest leaders and the associated impact on their own career trajectory. In addition, students participate in an on-site practicum, where they have the opportunity to shadow, interview and observe a leader first-hand.
Nancy Uffner-Elliott
This is a one credit class for students with Junior or Senior standing. Students will explore why performing arts unions came into being, what some of them are, and how they impact the lives of performing artists, managers and producers. Evaluation is based on attendance, preparatory research, written assignments, and collaborative discussions and projects. 4.5 hours/week of work outside class is expected.
Christine Anderson
This course is designed to provide students, as present and future leaders, with a basic understanding of the structure and function of government as it relates to the health of citizens and the practice of nursing. There is a focus on applying the concepts of leadership, advocacy and professionalism in the development of strategies for influence. Students will examine how individual or collective civic engagement effect issues relevant to nursing. Topics such as legislation and regulation, communication and the media and the role of professional organizations are addressed. Students will explore the impact of policy and politics on nursing practice within the context of a diverse and changing social and political environment.
IvayloDinov
This graduate level course engages students in (1) gathering polling data, survey information, and social networking data regarding the candidates, (2) predicting real time the "pulse of the nation" prior to, during, and after the second (UM-hosted) presidential debate in Fall 2020, and (3) drafting visualization apps illustrating the past, present, and forecasted trends of public opinions
Chrintine Anderson
(Prerequisite: Doctoral level status). This seminar examines the role of clinical leader in the development, analysis and transformation of institutional and public policy for healthcare and clinical practice. The role of leader is examined from the perspective of optimizing care delivery under existing policy and, when that is inadequate, influencing and shaping the redesign or development of new policy. The professional responsibility of the leader as an advocate to address health disparities and social injustices are stressed. Key themes include quality, access, equity, culture, and ethical decision-making.
School of Public Health
Back to top
Featured Course
Ebbin Dotson
As the United States addresses health reform implementation, healthcare managers, administrators, and providers are vying for power in how to shape our national issues. We have paid particular attention to, in recent times, the disparities in quality health outcomes based on racial, ethnic, and language differences. While rising healthcare costs and the attempts to curb spending have received much of the attention, the solutions are strongly tied to eliminating health disparities. In this course, we will redefine knowledge of health disparities through a health equity lens to explore the implications of managerial solutions as they pertain to health care organizations. We will use systematic, clinical, and social issues of origin to both explain and try to resolve management's role in addressing health equity. (Graduate Standing Required)